Department of Electrical Engineering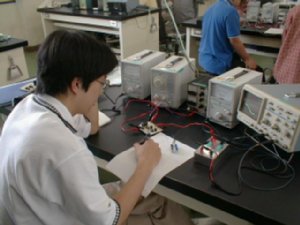 About the Department of Electrical Engineering
The Department of Electrical Engineering offers a comprehensive study of electricity. This includes computers, the internet, robots in the world, semiconductors such as LSI that Japan is competing with the U.S. in technological development, new communications such as satellite and optical communications and mobile communications, and the use of renewable energy that is important for a sustainable society.
To nurture students to become excellent electrical engineers, this department organized educational courses in the fields of "Information and Communication," "Electronic Properties and Devices," and "Energy and Control" aiming for "deep fundamentals and broad applications."
The classes are designed so that students can better understand the concepts and basic knowledge by combining lectures and laboratory exercises. In the aspect of research, students spend one year in a lab, where they work on their research projects under the personal guidance of a faculty member, learning basic research methods and composing reports, and develop a rich sense of creativity.
The department also provides internships for students to experience in-factory tours to broaden their horizons gaining social experience and a broader perspective.
Menu