Department of Chemical Science and Engineering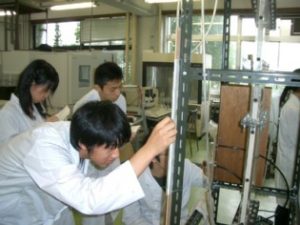 About the Department of Chemical Science and Engineering
Chemical science engineering plays a big role in the advancing of technology. The power of chemistry is indispensable for biotechnology, environmental and energy issues, the development of new materials, and also in the fields of nano-technology and IT. The power of chemistry has become a key part in many familiar applications, from anti-global warming to cell phones, optical communications and DVDs. Chemistry enables the creation of new technologies and is essential for the revival of a technology-based nation.
Under these circumstances, the Department of Chemical Science and Engineering provides education aiming for the following:
Acquire basic academic knowledge and applied skills.
Acquire excellent experimenting skills.
Be responsible engineers and follow the ethics.
Acquire knowledge of mathematics, physics, and IT and be able to make use of it.
Develop logical thinking, writing, presentation, and communication skills.
Learn about the culture and history of one's country and other countries and acquire an international mindset.
Menu